Where do musicians live in London
The Best London Restaurants With Live Music
Last Updated: 20th September 2019
Back in the day, a little jazz with your meal was only to be expected.
Sadly, it seems a lot of restaurants have dropped their standards.
But if you're set on a little musical accompaniment to your meal, fear not – you won't be forced to sing for your supper. Because London – though they be woefully few and far between – is still home to a number of excellent dining establishments where you can score a samba with your sambal. So behold; the best London restaurants with live music, from jazz, to classical, to 1940s gypsy folk.
–
Brasserie Zédel| Piccadilly Circus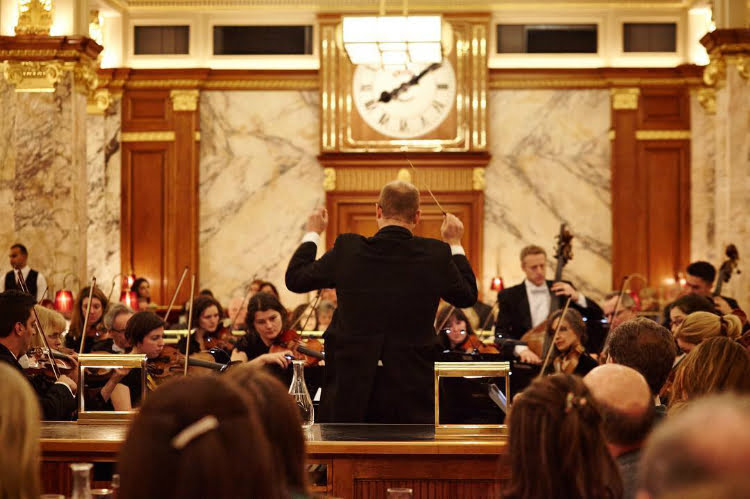 Not content with hosting one of the West End's ritziest cabaret and music venues, The Crazy Coqs, Brasserie Zédel's musical offerings spill into their grand, marble-clad dining room where live musicians play every night of the week. The bands come in for week-long residencies (find out more HERE), and blast out everything from Parisian folk music to vintage tango.
When to catch it:Every night 9.30-11.30pm Mon-Sat and 8.30-10.30pm Sun | Cover charge? No
–
The Blues Kitchen| Brixton, Camden & Shoreditch
The Blues Kitchen does exactly what it says on the tin, delivering live R'n'B, blues and soul alongside excellent Southern BBQ fixings. Which means you no longer have to visit three different places for the world's strongest beer (a sociable 67.5%), pan-fried catfish, and live music seven nights a week.
When to catch it: Every night, check HERE for listings | Cover charge? Free entry but often ticketed Fri/Sat
–
La Bodega Negra| Soho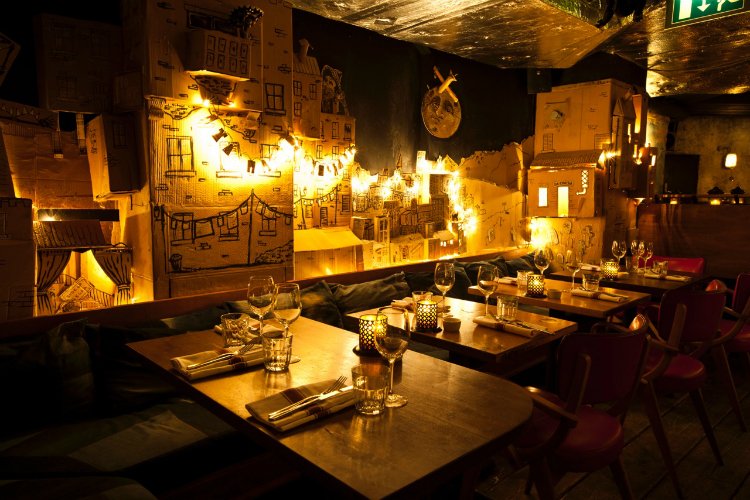 LBN may be hidden behind the facade of an old-school Soho sex shop, but nowadays they're putting on a very different kind of live show – specifically, a live soundtrack of vintage mambo, cubano and guaracha to accompany top-notch tacos and margaritas.
When to catch it? Wednesdays, 7-10pm | Cover charge? No
–
Plaquemine Lock| Islington
Jacob Kenedy (the uberchef behind Soho's Bocca di Lupo) turns his hand to Louisiana cuisine at his homely Islington eatery – and like all good New Orleans joints, there's live jazz and blues from big name performers every Wednesday and on weekends.
When to catch it: Wednesdays from 7-9pm, Saturday from 2pm, Sundays 2pm and 6pm – check HERE for listings | Cover charge? No
–
Café Bohème| Soho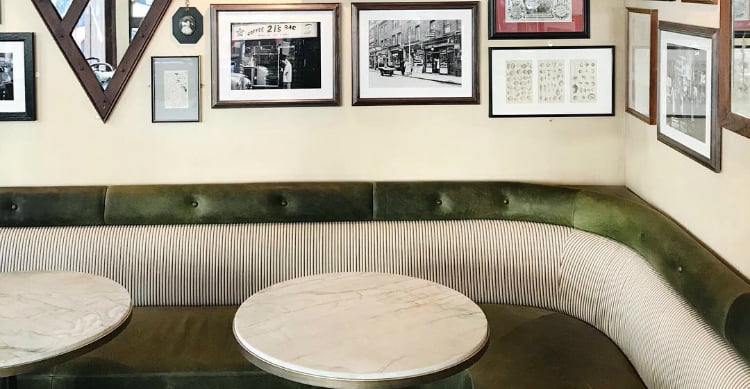 A Soho institution, Café Bohème has all the great hallmarks of French authenticity (despite actually being owned by Soho House) – cosy, Belle Epoque décor; a menu of hearty French fare; and nightly live jazz that seems to make the seafood taste that bit better…
Maybe it's a mussel relaxant.
When to catch it: Daily at lunch and early dinnertime| Cover charge? No
–
Sarastro| Covent Garden
The fact that almost every surface is swathed in gold isn't the most unusual thing about this restaurant – and neither is the fact that some of the seating is arranged in theatre-style boxes. If anything, it all starts to make sense in the evening when performers start belting out anything from Motown to opera. It's a hoot.
When to catch it: Live music most evenings, check HERE| Cover charge? No
–
Sketch| Mayfair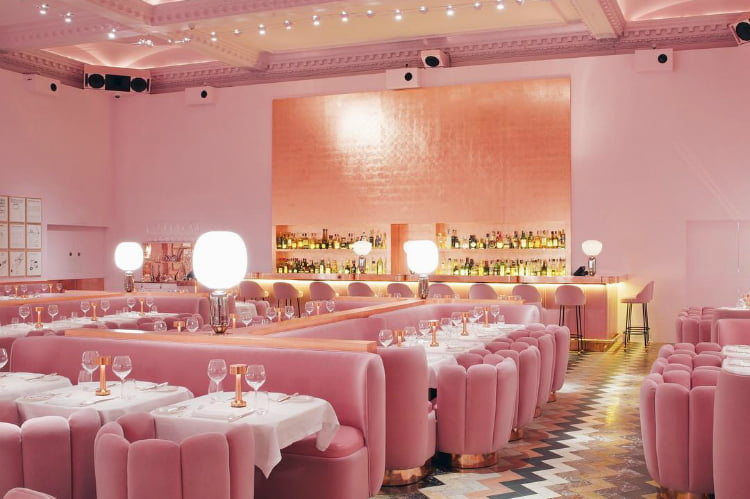 If live music's your cup of tea, you can combine it with an actual cup of tea in the flamboyantly eclectic Gallery at Sketch, where string quartets will bow their way through classical pieces and the occasional pop arrangement as you tuck into your afternoon tea.
When to catch it: During afternoon tea, daily | Cover charge? No
–
Cecconi's Shoreditch| Shoreditch
The folks at Cecconi's have astutely observed that the only thing better than ordering a cocktail and heading down to ransack the kitchen for a bottomless buffet of Italian dishes, Sunday roasts, brunch options and tiramisu… is having a cool-as-anything pair of bossa nova musicians to accompany you while you do it.
When to catch it: During Sunday Feasts, 1-4pm | Cover charge? No
–
Dirty Bones Kensington| Kensington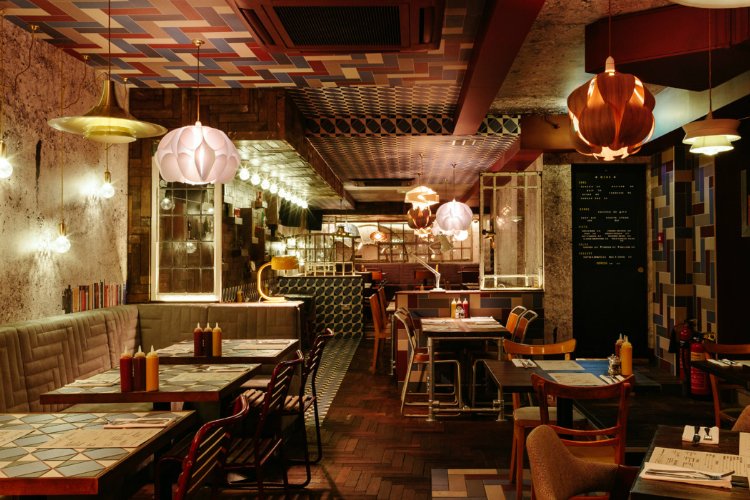 Nod to the hosts at the pinball machine in the cocktail bar, waltz through the old photo-booth into the restaurant, and chow down on slow-cooked pork belly ribs; buffalo hot wings and mac 'n' cheeseburgers as a live band serenades you with classic funk, soul and R'n'B. Figures.
When to catch it: Thursdays from 8pm | Cover charge? No
–
Hideaway| Streatham
True to its name, Hideaway has been kept a closely-guarded Streatham secret for the past seven years. But to those in the know, it's an atmospheric, totally unpretentious live music den that plays host to every genre, from jazz and swing to Motown and reggae, whilst serving up top-shelf gastropub-style food.
When to catch it: Check listings HERE| Cover charge? Ticketed events
–
The Ned| Bank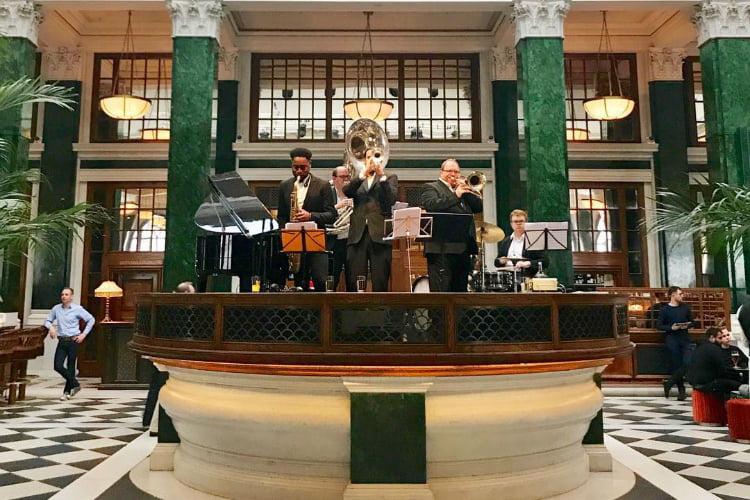 Soho House's grandest opening yet, The Ned makes its home in a former bank building in, well, Bank. And inside the majestic, marble clad ground-floor atrium, you'll find no less than seven restaurants, a cocktail bar, and a central bandstand, from which you'll be treated to live music daily – from roaring jazz to acoustic sets from up-and-coming artists.
When to catch it: Daily | Cover charge? No
–
Park Chinois| Mayfair
Any restaurant that serves a soup for £168 should, at the very least, have some excellent live music to distract you. Which is why Park Chinois, Mayfair's most extravagant (and, to its credit, highly impressive) Cantonese fine dining restaurant has exactly that, with cabaret-style seating and top-class bands taking to the stage every night of the week.
When to catch it: Every night | Cover charge? £10pp
–
100 Wardour St| Soho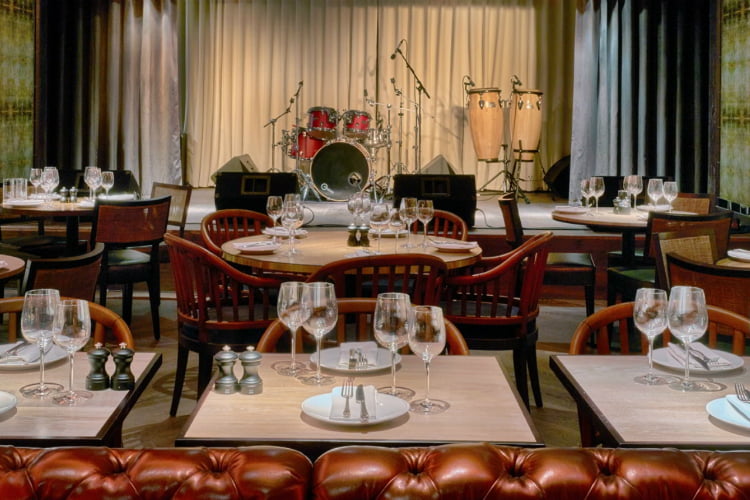 Built on the very site where the Rolling Stones played their first gig, 100 Wardour St are hoping that you can always get what you want, with their nightly changing line-up of live music. Plus, there's a full dinner menu available until 11pm.
When to catch it:Mon-Sat, check ahead HERE| Cover charge? £3pp
–
Dalston Jazz Bar| Dalston
Just in case having a live jazz band wasn't enough of 'a thing', this restaurant has also plumped for a menu that occasionally features the likes of white shark fillet, kangaroo and crocodile. Also, the chef's a DJ. And you only have to pay what you want for the whole meal.
When to catch it: Fri-Sat evenings | Cover charge? PWYW, min. donation £20pp
–
Le QuecumBar| Battersea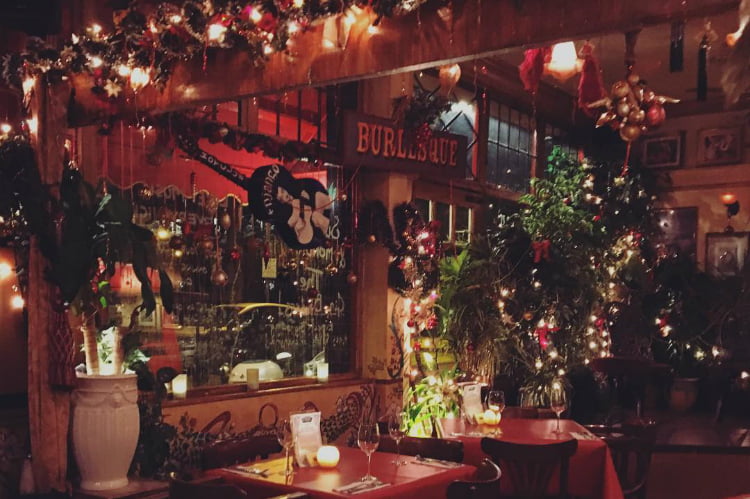 Suffice to say Le QuecumBar is pretty cool. Cosy and intimate, the place is decked out like someone's living room, with photographs lining the walls, candlelit cabaret tables and a sprinkling of Belle Epoque Parisian charm. Thanks to the owner's obsession with Django Reinhardt, you'll find the cream of the Gypsy jazz-swing crop performing six nights a week, after which you can retire for a nightcap in the fairy-lit jungle of a garden.
When to catch it: Every night except Wed, 8-11pm | Cover charge? Free before 8pm, £6pp after (unless a special ticketed event). Best to reserve as there's no standing.
–
Red Rooster| Shoreditch
Red Rooster's got plenty to crow about. Because not only is the original NY outpost one of Obama's favourite spots; the London incarnation is home to a menu of delicious soul food, a late night taqueria, and live music every week. Expect a mix of soul, hip-hop, and R'n'B, as well as their famous Gospel Brunch on Sundays.
When to catch it:Regularly, check HERE| Cover charge? £5pp for Gospel Brunch
–
WC| Clapham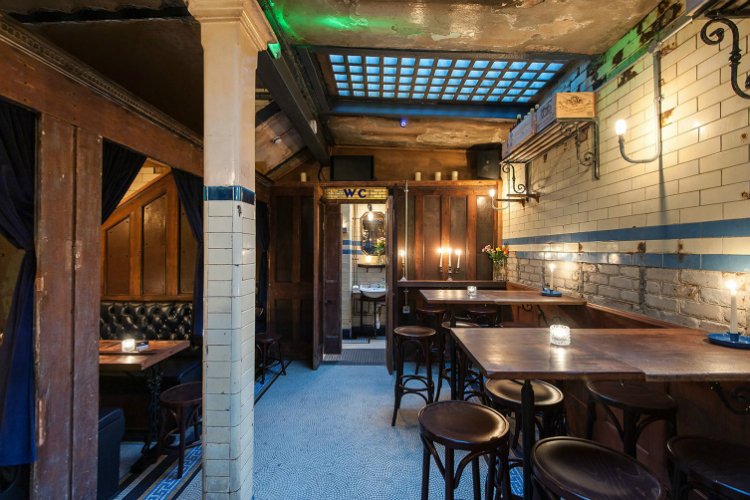 Not all underground wine and charcuterie bars housed in a former Victorian public convenience beneath Clapham Common also host regular performances of folk music and 60s pop. But this one does.
When to catch it: Sundays 8-10pm | Cover charge? No
–
Le Café du Marché| Smithfield
If a child drew a (very accomplished) picture of a French restaurant, this is how it would look – hidden down a cobbled alleyway, with vintage posters on the walls, candlelight and tablecloths, little curtains at the windows, and a nonchalant pair of musicians providing a little background jazz on double bass and piano.
When to catch it: Nightly | Cover charge? No
–
Scarlett Green| Soho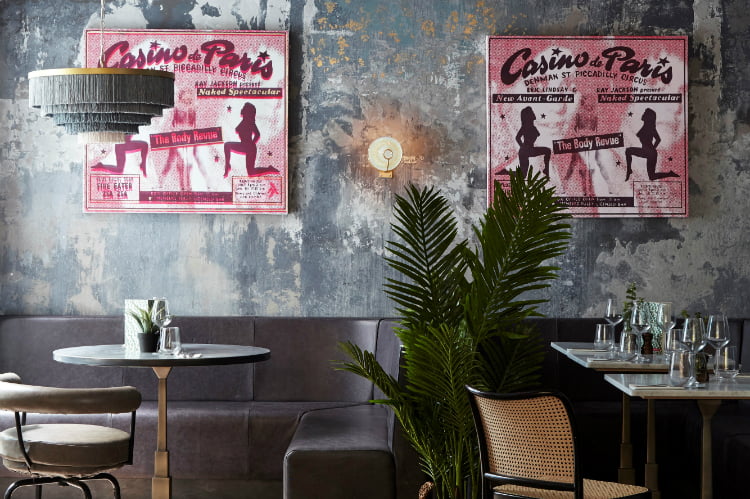 Scarlett Green would make a horrible colour. But thankfully it's pretty easy on the ears, thanks to the live acoustic and DJ sets that take place daily in their stylish first-floor dining room – the perfect accompaniment to a bottomless Aussie-style brunch.
When to catch it: Daily from 4pm | Cover charge? No
–
Toulouse Lautrec | Kennington
This low-lit jazz bar is like something out of a film – crooners and quartets take to the stage at the back, while lovers share steak tartares and crème brûlées at marble-topped, cabaret-style tables with Bentwood chairs. The atmosphere's romantic, the music's great and the food is classically, romantically French.
When to catch it: Every night | Cover charge? £10pp if you're not dining
---
Looking for restaurants with live entertainment? Check out Circus and Proud Embankment